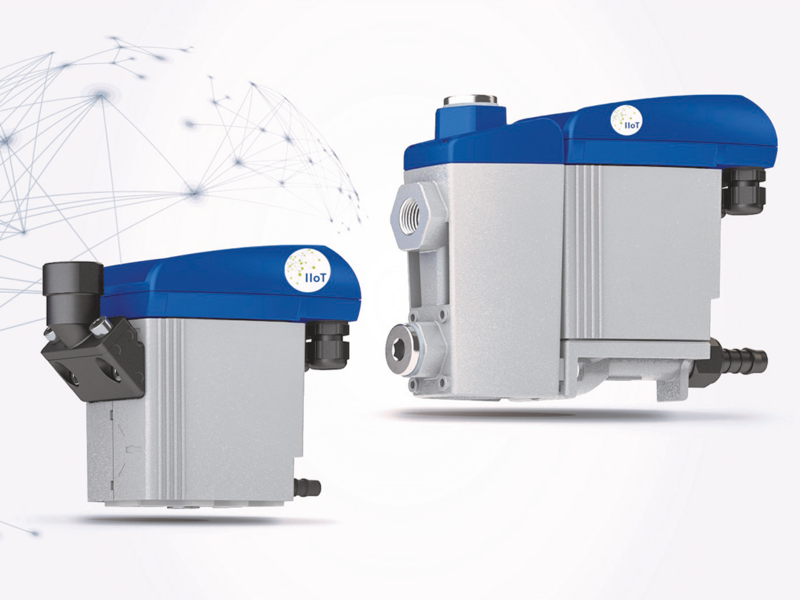 Networked compressed air treatment
BEKOMAT i4.0: condensate drain goes digital
BEKO TECHNOLOGIES is taking another step towards the fully networked compressed air treatment of the future. The newly developed BEKOMAT i4.0 is a fusion of proven condensate drainage and digitalization. The device not only offers reliable discharge of oily and contaminated condensate without loss of compressed air, but also communicates with control systems and control rooms. In this way, the BEKOMAT i4.0 meets the industry's expectations of intelligent systems: networkability, remote monitoring and flexibility.
Proven technology now also network-compatible
BEKOMAT from BEKO TECHNOLOGIES is considered an industry standard with more than five million installations. The robust unit discharges condensate without loss of compressed air, thus saving energy and CO2 emissions. This is made possible by the integrated capacitive sensor, the intelligent electronics for volume-adjusted condensate discharge and the pilot control of the solenoid valve. With the new BEKOMAT i4.0 generation, users additionally tap into the benefits of digitalization and increase process reliability even further. The IIOT-capable product range of 13 models for different performance levels and requirements provides you with continuous real-time data on the status of each individual trap for optimum transparency and monitoring.
Advanced condensate management protects against failures
With an RS485 industrial bus interface, the BEKOMAT i4.0 condensate drain transmits its information to central control stations. Visualization of the performance and function data of all connected condensate drains in real time enables intelligent condensate management. For example, important conclusions about the entire compressed air system can be drawn from the status messages. Early warning and alarm signals allow targeted service measures to be initiated before failures occur, and maintenance can be optimally planned.
Networking with minimal installation effort
The new BEKOMAT i4.0 condensate drain requires only one cable for power supply and at the same time for data transmission. With the daisy chain connection technology, the cable is pulled through from one device to the next, which reduces the installation effort to a minimum and allows easy expansion of the system.