Oilfree

: Our solutions for sensitive applications
Dry, dust-free and oil-free compressed air plays a very important and often underestimated role for for numerous applications. Branches such as the food, pharmaceutical, automotive or electronics industries often rely on especially high process safety. With exactly these applications in mind, BEKO TECHNOLOGIES supplies innovative catalytic solutions which provide oil-free and even germ-free compressed air in addition to tried-and-trusted activated-carbon adsorbers
Suitable measuring technology also makes it possible for you to continually monitor whether defined limit values are being met, even for demanding operating parameters, high operating pressures and temperatures.
Different procedures tailor-made for every requirement
Compressed air classes 0-1 in accordance with ISO 8573-1: For these especially demanding applications, you achieve certified oil-free and germ-free compressed air through a catalytic oxidation process using the unique BEKOKAT technology.
Compressed air classes 1-2 in accordance with ISO 8573-1: Here, the tried-and-trusted activated-carbon adsorber CLEARPOINT V protects your system from oil entry by means of efficient oil vapour adsorption with special activated carbon, at the same time standing out on account of a low differential pressure and long service lives.
Constant
oil and germ-free

compressed air: BEKOKAT®
Our catalytic converter is the ideal solution wherever constantly oil- and germ-free compressed air is required. It combines economic efficiency with process reliability and is independent of intake conditions. It can easily be retrofitted to existing compressed air stations. The BEKOKAT stands for high process reliability and constant compressed air quality particularly when used with sensitive products such as food or pharmaceuticals.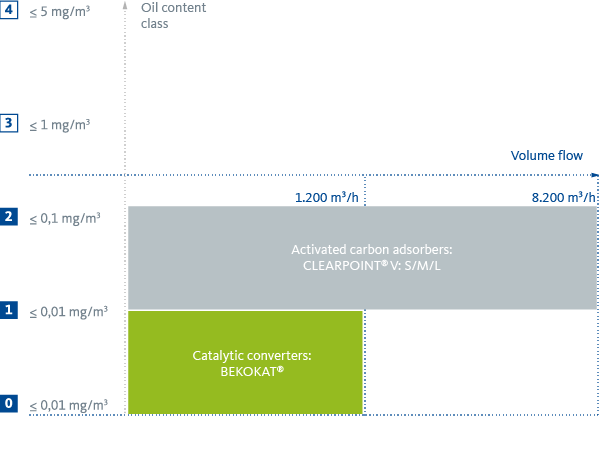 CLEARPOINT® V activated-carbon adsorber
The activated-carbon adsorbers of the CLEARPOINT V series are particularly suitable for large volume flows and high pressures. They are convincing on account of a minimum residual oil content of only 0.003 mg/m³ and low differential pressure with extremely low energy costs.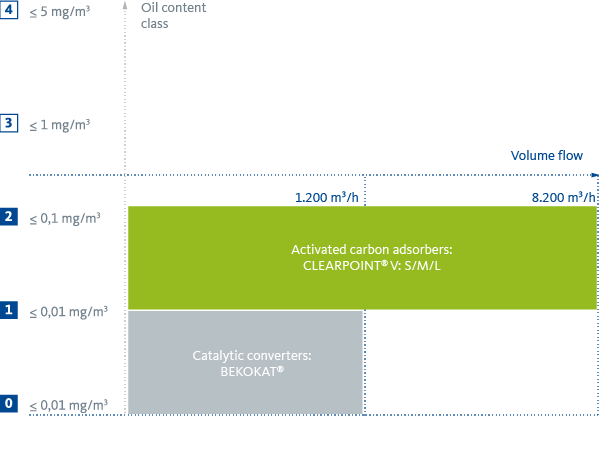 Oil-free solutions

Product Range
3 MB