Ultrasonic leak detector
Simple and precise leakage detection
Detect the smallest leaks even at great distances
Minimise losses and costs with the METPOINT CID leak management system
Leaks in the compressed air supply of your production are responsible for unintentional compressed air loss, which leads to higher energy consumption and thus increasing energy costs and CO₂ emissions. With the METPOINT CID leak management system, you can find leaks in your production quickly and precisely, quantify the losses directly during the leak search and clearly document all error points so that they can be remedied in a structured manner. The supplied software and accessories help you to find leaks quickly and intuitively, even in hard-to-reach places.
Extensive searches through a long battery life
Locate compressed air loss acoustically
The leak detector uses ultrasound to find even distant leaks. To do this, you systematically walk along the compressed air lines and use the headphones to hear whether you are approaching a leak. Disturbing ambient noise is masked out, ensuring trouble-free use even during working hours. The battery life of up to 9 hours of continuous operation is also sufficient for extensive searches. The attachment of the locator can be flexibly changed to ensure that even the smallest leaks are found when the pipes are close or far away.
Visualise savings potential
Quantify and document compressed air losses
The leakage is visually displayed on the colour touch display. The measured compressed air loss is displayed directly for the affected area and the financial savings potential for repair is quantified. The integrated laser distance measurement ensures reliable cost calculation. The leakage location and the calculated data can be saved directly in the search device for later repair.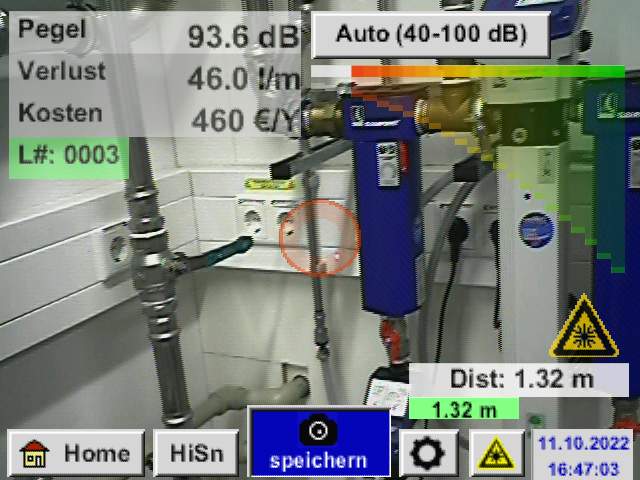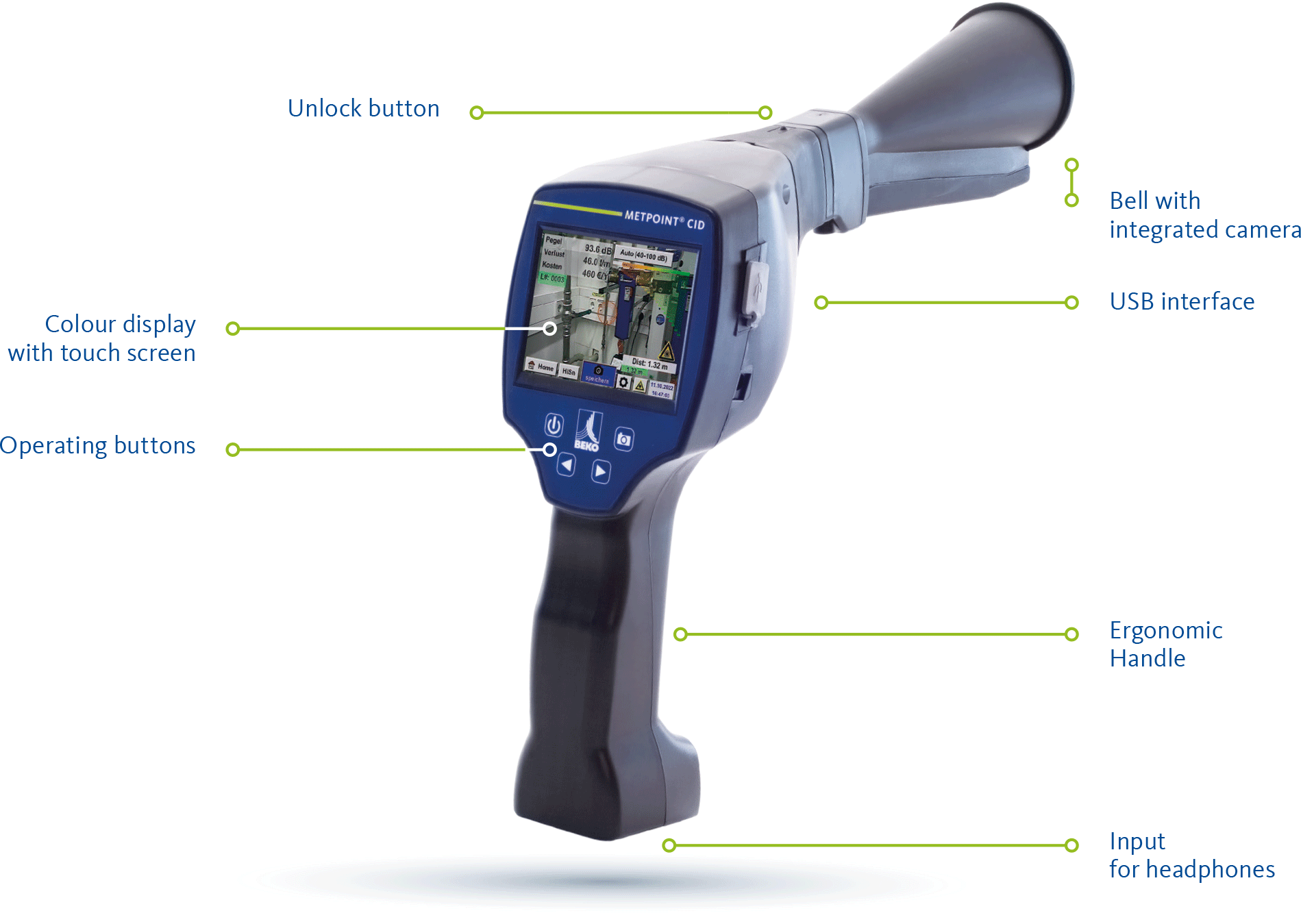 Short distances
Directional tube for pinpoint location
In the case of pipes that are spatially close to each other, the straightening tube with measuring tip is used. For this purpose, the compressed air system is inspected at close range with the leak detector. Its small opening area enables precise, pinpoint location of even the smallest leaks.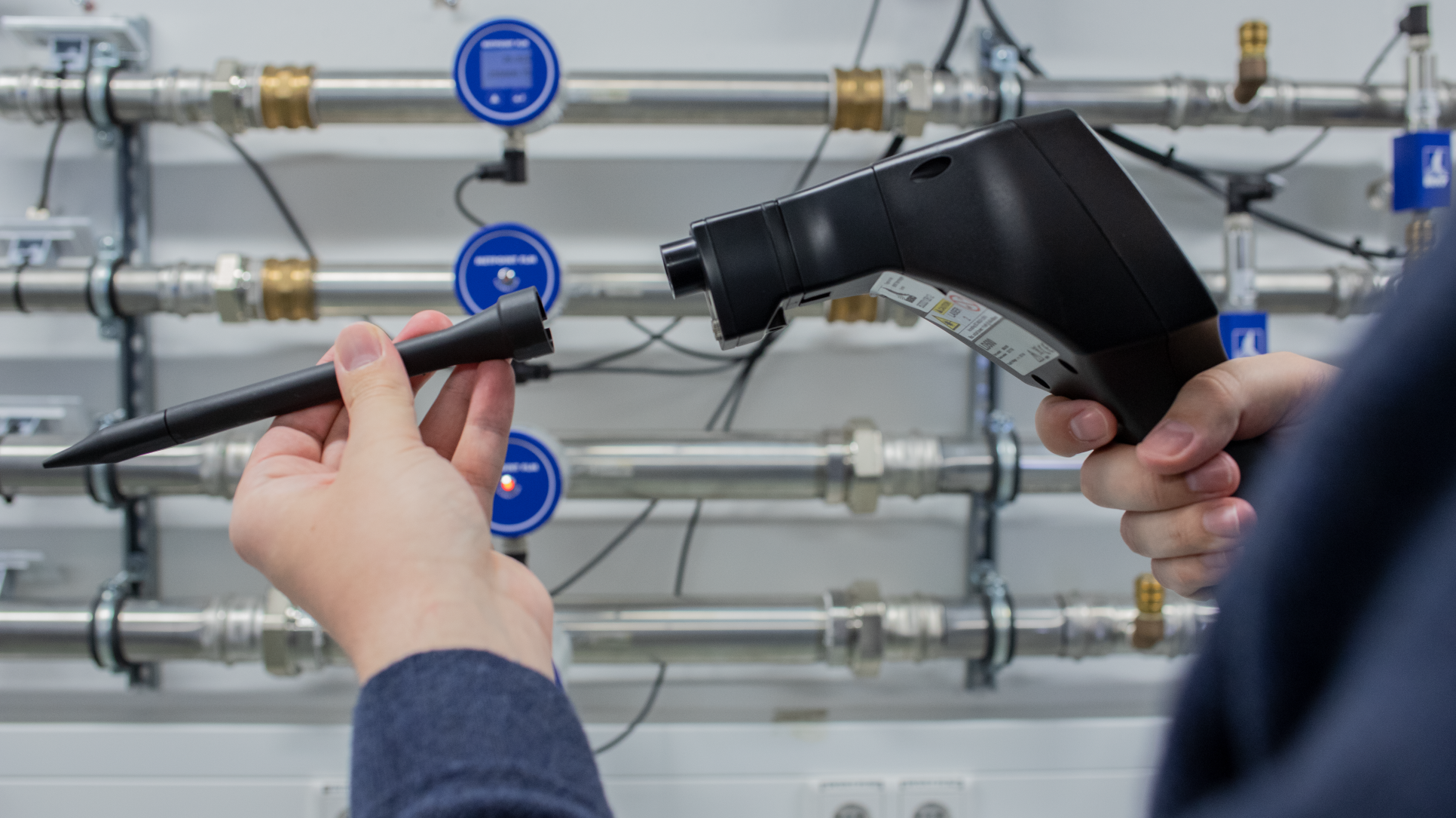 Medium distances
Bells for standard applications
For average distances between 0.2 and 6 metres to the examined line, the sound funnel is used. A laser pointer can be activated for easier orientation. The funnel shape also allows the ultrasonic waves of distant leaks to be captured. The sonic funnel is used most frequently.
Great distances
Parabolic reflector for larger distances
The parabolic mirror makes it possible to find a leak at greater distances from the compressed air system of 3 to 15 metres. The integrated aiming laser helps with sighting and the camera with telephoto lens helps with the precise location of leaks. The parabolic mirror is stored in a robust transport case and is available as an accessory.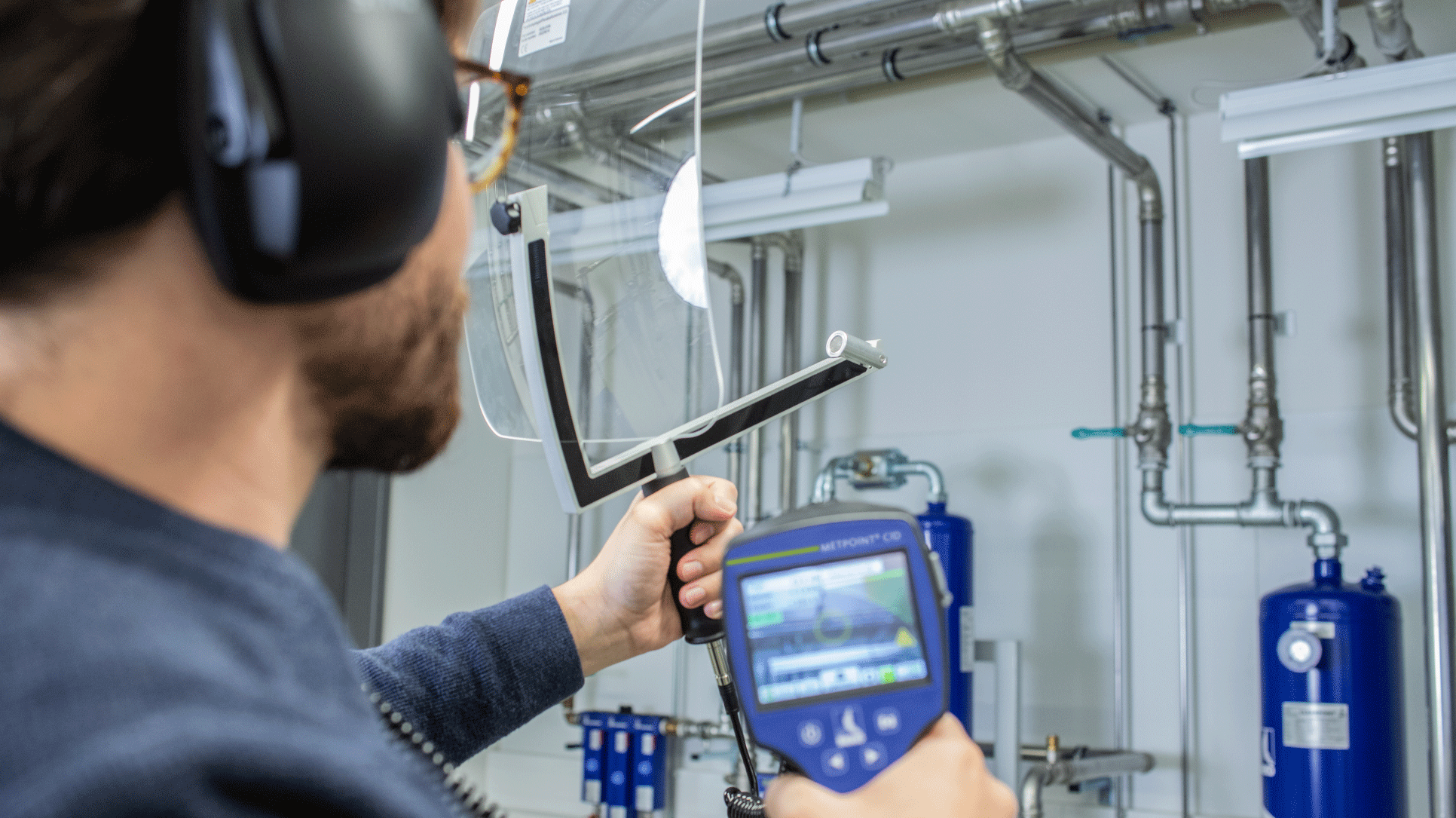 How it works
How METPOINT CID works
Due to the friction of the gas molecules, leaks generate noises that are inaudible to the human ear. With the leak detector, these noises can be identified and acoustically located by the user via the headphones. In addition, the position and size of the leakage is shown on the display.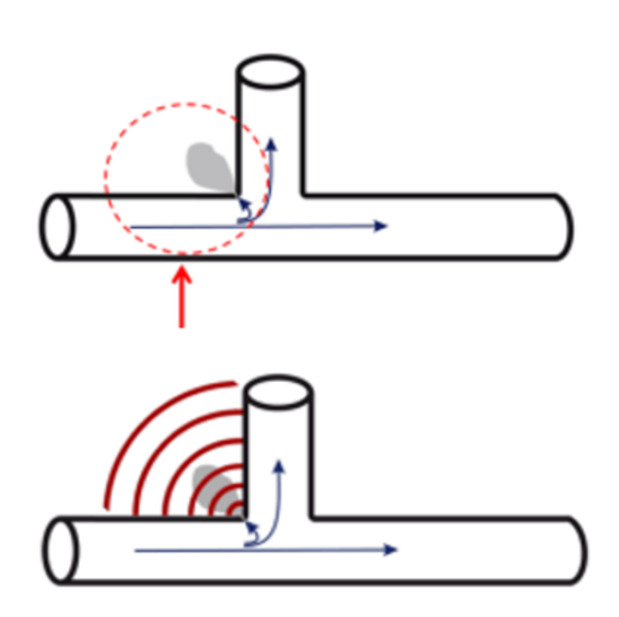 METPOINT CID brochure

2 MB
Current Software
112 MB