Compressed air in the cement industry
The construction industry is growing every year and with it the use of cement, gypsum and concrete. These indispensable building materials are mainly extracted from natural resources, such as limestone. They are transported in coarse chunks for further processing. Only through processes such as crushing, grinding and burning are they transformed from coarse rock into powder. During burning, the ground powder is heated to such an extent that it melts and forms small lumps, the clinker. This clinker is already highly hygroscopic and only becomes fine cement after a further grinding process in the huge ball mill.
Often other substances are added in order to produce certain properties and thus to be able to serve the areas of application in the construction industry. The fine powder is then either packaged and shipped or placed in silos to be loaded directly into truck mixers for use.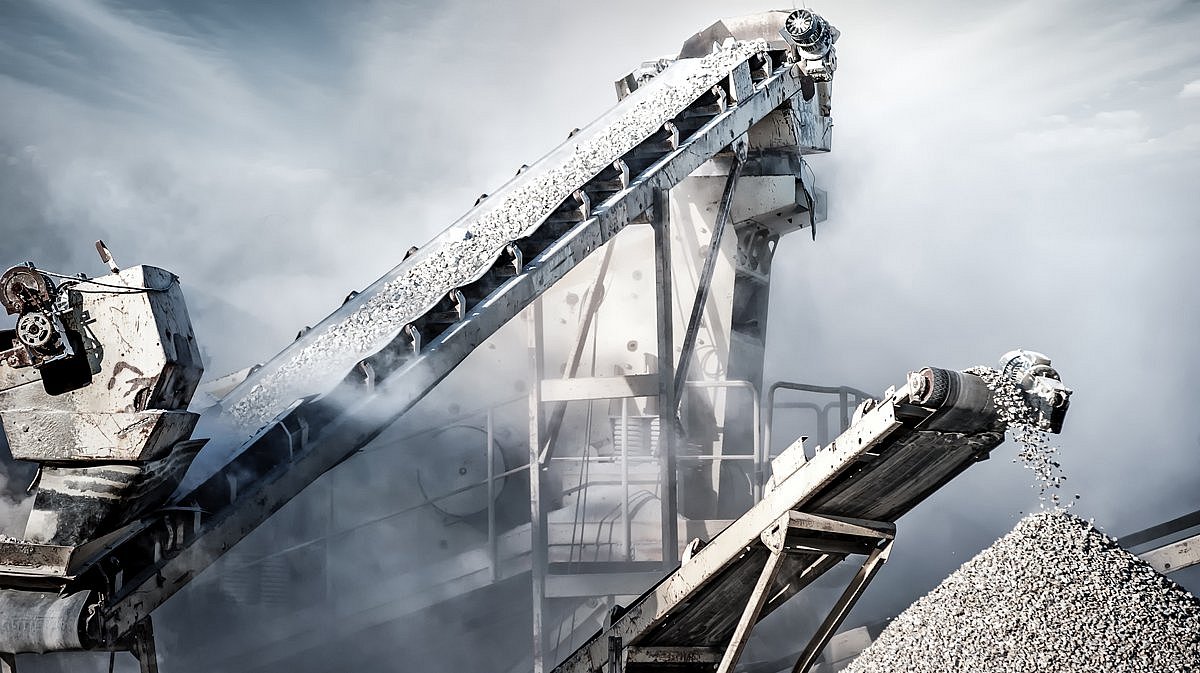 Moisture as a special challenge
In all these processes, pneumatically driven machines, blowers or conveyors are often operated with compressed air in the harsh, dusty environment. Moisture from the ambient air or production-related water or oil vapours pose a particular challenge here. They cause the cement powder or clinker to harden and clump together and can clog pipes and render the cement itself unusable. Since moisture from the ambient air and production-related water or oil vapour cause the extremely moisture-binding powder to clump and harden, special requirements must be placed on ambient air and compressed air quality both for the use of machines and for storage or conveying.
Compressed air quality requirements
For example, pneumatic drives as well as conveying air or process air must be particularly dry and free of moisture and oil vapor during production, loading or transfer. Otherwise, deposits will form on machines and in lines. Valves, cylinders, optical monitoring systems on ovens and silos stick together, become clogged and can thus delay production, lead to wear and repairs and, in the worst case, bring the plant to a standstill.
Depending on the type of production plant, the stations between the ball mill and the silo are cleaned at various points by compressed air or sprayed with appropriate chemicals that prevent clumping and hardening.
With its standard sheets, the VDMA provides important information on compressed air quality for various industries. For the cement industry, it defines quality class 4-7 in terms of particle content, class 4 in terms of humidity (vapour) at a temperature above 10°C, class 2-3 below 10°C and class 4 in terms of total oil content. These classes apply to both control air (e.g. for pneumatic drives) and conveying air (e.g. for conveying, cooling or storage).
*Source VDMA standard sheet 15390-1
Depending on the size of the raw materials used, lines operated with compressed air are used to convey the material. The drier and more powdery the material, the drier the compressed air used must be so that the moisture-binding powder does not adhere to line walls, connections or valves and block them. Particularly in the case of outdoor lines, it is necessary to control and compensate for temperature fluctuations and the associated development of condensate so that production can run without interruption.
The finished, highly hygroscopic powder is stored in rooms cooled by fans. For this purpose, it is absolutely necessary that oil vapors and moisture are filtered out of the ambient air drawn in and that only absolutely dry and condensate-free air is blown in so that the powder remains homogeneous and does not clump or harden. If the powder is transferred to further silos, for example before it is further processed into concrete, it must be pumped via self-contained systems operated with dry compressed air into a tanker and from the corresponding tanker into a silo. No moist outside air may reach the cement in the process.
The hygroscopic powder is conveyed through various stations during its processing. In this process, deposits can occur, especially in places where the product is deposited, i.e. where a lot of it remains for a certain period of time, and these deposits must be removed regularly. This is done by compressed air blasts, which take place automatically after a certain time or a certain process, in order to prevent sticking and loss of material. It is imperative that the air is free of moisture and oil and therefore very dry in order not to form a basis for deposits. All processing stations that follow the rotary kiln must necessarily use very dry and oil-free air.