Economic

oil-free compressed air with activated carbon adsorbers
In order to ensure high compressed air quality with compressed air class 1-2 in accordance with ISO 8573-1, in particular with regard to the residual oil content, the CLEARPOINT V activated-carbon adsorber is the effective and reliable technical component in demanding system designs.
The consistent overall concept guarantees compressed air quality with a minimum residual oil content extremely cost-efficiently. Oil vapours and odours are adsorbed on the unusually large active surface of the compression-moulded activated carbon pellets. When selecting our activated carbon, we work together with selected suppliers who guarantee consistent carbon quality. A major advantage for your compressed air quality and process reliability.
Depending on the compressed air volume required, BEKO TECHNOLOGIES can offer you the suitable solutions

By connecting several activated carbon adsorbers in parallel, respective higher volume flows can be processed.
CLEARPOINT® V S/M activated carbon cartridges
CLEARPOINT V activated carbon cartridge for small and medium volume flows
For small and medium volume flows up to 200 m³/h and pressures up to 50 bar [g], our CLEARPOINT V S/M offer a clean solution for oil-free treatment.
A special activated carbon cartridge has been developed for maximum requirement profiles.
Highly efficient adsorption with minimum residual oil content
Significantly higher service lives than conventional activated carbon filter elements
Service-friendly with easy to exchange cartridge
Conventional testing technology can easily be adapted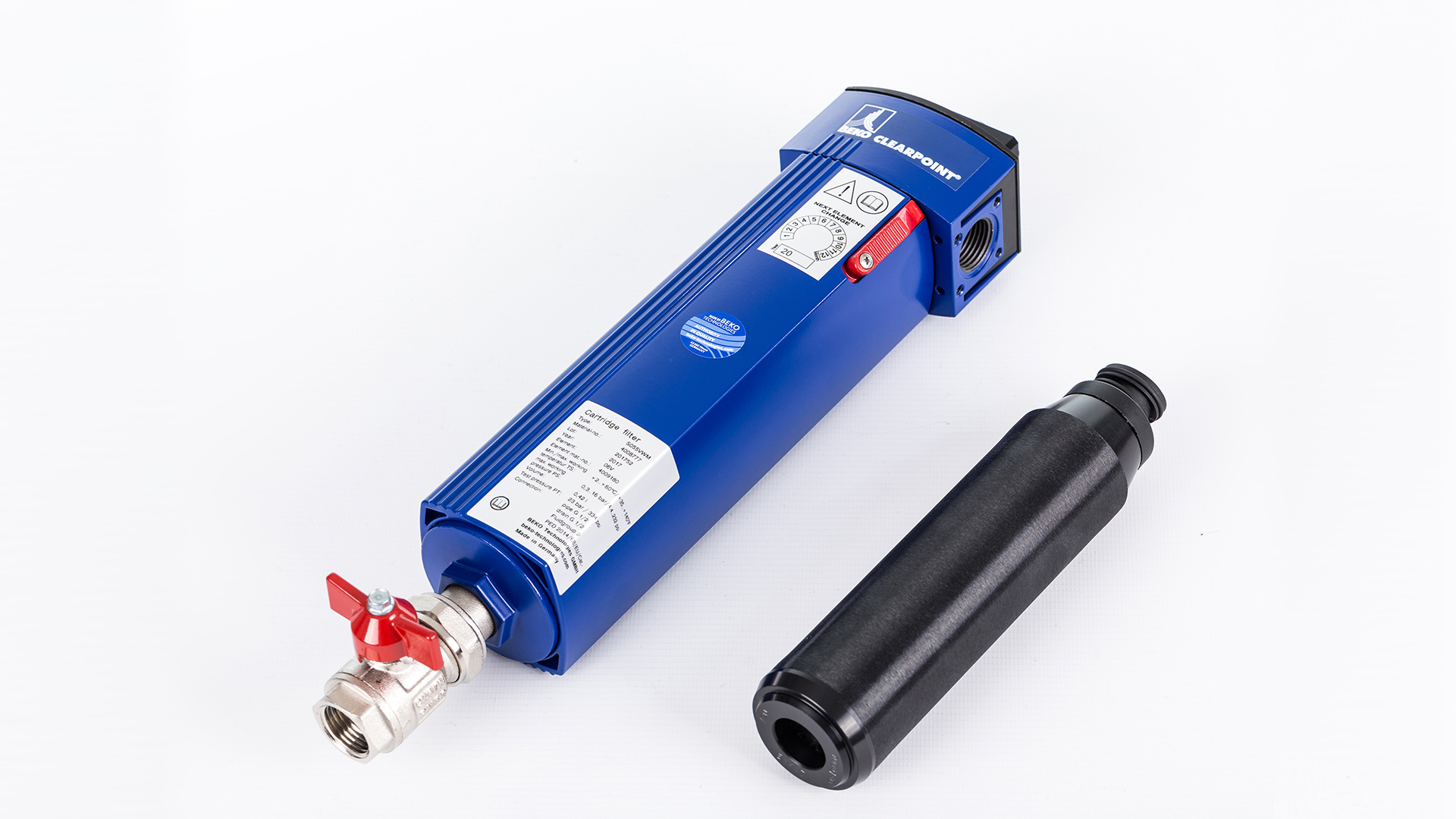 CLEARPOINT® V L activated carbon adsorber
CLEARPOINT V activated carbon adsorbers for large volume flows
The extraordinary range of variants of the CLEARPOINT V L available offer you the suitable solution for every requirement. For volume flows up to 8200 m³/h and pressures up to 40 bar [g].
CLEARPOINT V L is the effective and reliable solution for ensuring a high compressed air quality, particularly in terms of the residual oil content. An indispensable technical component in demanding system designs. Advanced overall design for outstanding performance.
In addition to our standard versions L 205-295 V, L 1250-8200 V for volume flows from 135 m³/h to 8200 m³/h, we also offer a suitable option for the pressure range up to 40 bar in the form of our L 1300-5000 V HP (1300 - 5000 m³/h). If particular care is required in terms of fire protection, we can deliver all models in a VH version on request, which provides a combustion-resistant solution thanks to special carbon.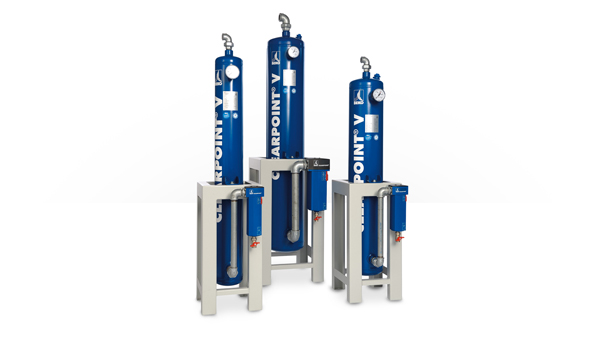 Advantages of CLEARPOINT® V
low operating costs
low differential pressure
long service life
efficient oil vapour adsorption with special activated carbon for max. residual oil content of 0.003 mg/m³
complete solution with oil-free dust filter
oil test indicator or
METPOINT OCV compact - residual oil content monitoring to safeguard production processes
And how does the activated carbon adsorb the oil in the compressed air?
Find out how activated carbon works in the field of compressed air treatment and what is important when you have an activated carbon adsorber in operation in your compressed air network.
Technical data CLEARPOINT® V
Activated carbon filter with cartridge
Activated-carbon-adsorber
Activated-carbon-adsorber
High-pressure-activated-carbon-adsorber
Parameter
Unit
S055 – M018 VWM (HP)
L 205 - 295 V
L 205 - 295 VWM
L 205 - 295 VH
L 1250 - 8200 V
L 1250 - 8200 VWM
L 1250 - 8200 VH

L 1300-5000 V HP
Volume flow
m³/h
50 … 200
135 ... 1550
1250 ... 8200
1300 ... 5000
Max. operating pressure
bar [g]
16 (optional: 50)
16 , L 295 V: 11
11
40
Max. operating temperature
°C
45, recommended less than 25
50°C, recommended less than 35

50°C, recommended less than 35
50°C, recommended less than 35
Max. service life
h
2.000-3.500
10.000
10.000
10.000
* By connecting several activated carbon adsorbers in parallel, respective higher volume flows can be processed.
CLEARPOINT V active carbon adsorber

Brochure
238 KB
CLEARPOINT L 205 – L295 VWM

Manual
946 KB
For the production of compressed air of ISO 8573 quality class 1, most operators use activated-carbon adsorbers that remove oil molecules from the compressed air by means of adsorption. As activated carbon also adsorbs water vapour, it can be quickly spent, especially where the air contains quite a lot of water vapour. At this point, the activated-carbon adsorber is no longer able to take up oil molecules, so that the concentration in the downstream compressed air exceeds the limit for quality class 1 (> 0.01 mg/m³). For long service lives and consistent low residual oil contents, the compressed air must therefore be dried before it enters the activated carbon.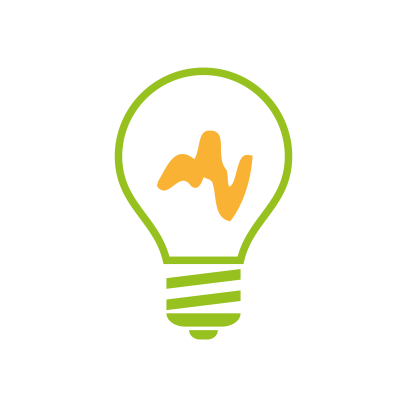 Our measuring technology especially for oil vapour measurement
Compressed air contaminated with oil can cause damage to production equipment, the environment and even health. Since contamination with oil can occur at every stage of compressed air treatment, the risk must not be underestimated particularly in sensitive production areas in the chemical and pharmaceutical industry, food and beverage production facilities and surface finishing.
Using the suitable measuring technology, you can monitor whether the defined limit values are reliably observed. The METPOINT OCV compact continuously analyses the oil vapour content of your compressed air and triggers an alarm in the event of deviations. In contrast, the analogue oil test indicator makes periodic measurement directly at the respective treatment component possible.
The METPOINT OCV compact (Oil Content Vapour) makes continual online monitoring and documentation of the residual oil vapour content possible. The measuring section is located directly at the compressed air outlet of the activated-carbon adsorber. Thus the METPOINT OCV compact makes an important contribution towards boosting the process safety of your system.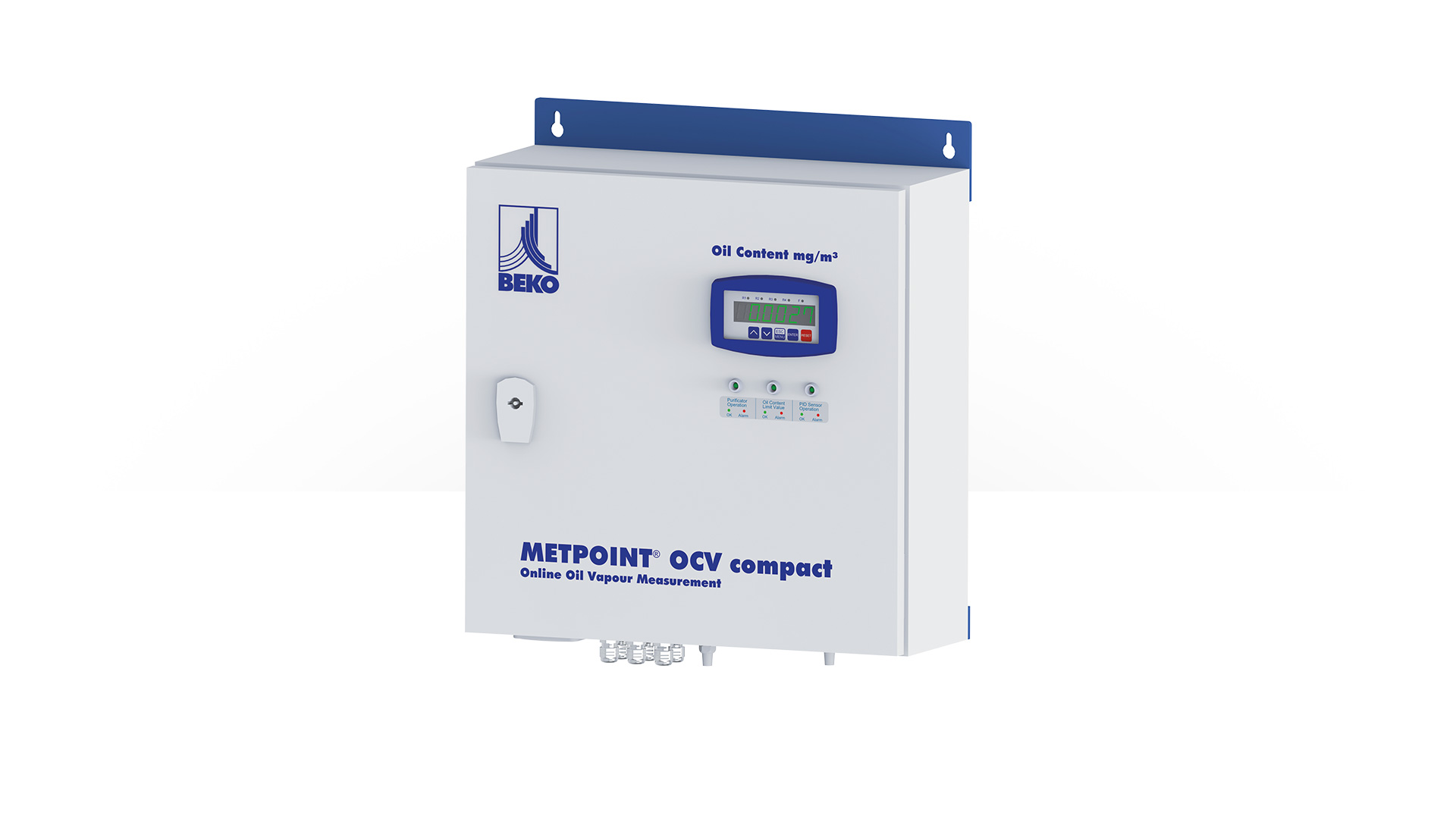 Enhanced
safety

through oil test indicator
An adapter with an oil test indicator and pressure gauge can be mounted on the head of the filter housing in order to determine the compressed air quality. When the needle valve is completely opened, a defined volume flow flows through the testing tube. The oil contained in the compressed air results in a progressively red discolouration of the testing tube from bottom to top.
The oil testing tube is used for period measurement of the residual oil content downstream from a treatment component in a compressed gas system or at a point in the compressed gas network. Multiple measurements are possible until the load limit has been reached.